Moscow Plane Crash lands killing over 40 people
Moscow Plane Crash. At least 40 people on board a Russian passenger plane were killed when it caught fire while making an emergency landing at a Moscow airport on Sunday 5th May.
According to the footage seen, the Sukhoi Superjet-100 made the crash landing at Moscow's Sheremetyevo airport with much of its rear part engulfed in flames. The harrowing video showed passengers leaping from the front of the burning plane onto an inflatable slide and staggering across tarmac and grass.
Two children
At least two children are reportedly among those dead, according to Russian investigators. Another 11 people were injured, said Dmitry Matveyev, the Moscow region's health minister. Three were hospitalized but they were not in a serious condition.
Elena Markovskaya, a spokeswoman for Russia's Investigative Committee, said early on Monday that 41 people were killed. But Health Minister Veronika Skvortsova said later that 38 survived, implying the death toll was
The airport said in a statement the plane turned back for unspecified technical reasons and made a hard landing that started the fire.
"Investigators soon will begin interviewing victims, eyewitnesses, airport staff and the airline carrier, as well as other persons responsible for the operation of the aircraft," Investigative Committee spokeswoman Svetlana Petrenko said.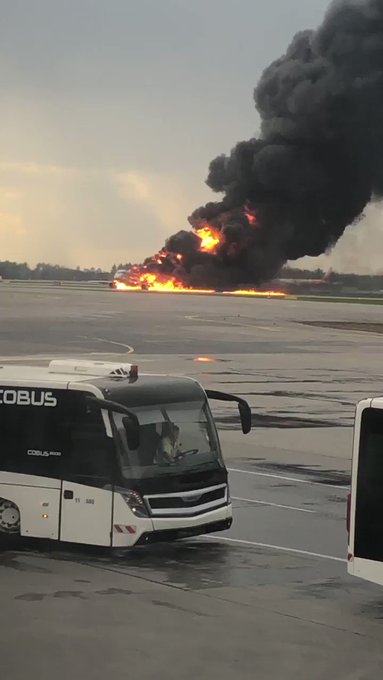 78 on board
News agencies said the Sukhoi aircraft, which had been flying from Moscow to the northern Russian city of Murmansk before turning back, was carrying 73 passengers and five crew members.
Russian investigators said they were looking into whether the pilots had breached air safety rules in the Moscow Plane crash.
"As the aircraft was gaining altitude, in about seven minutes into the flight and at about 10,000-feet altitude, the aircraft started to descend," Anil Padhra, an aerospace engineer reported.
"This shows that the pilots were aware that something was wrong with the aircraft. They knew that they had to get back to the airport."
Full fuel tank
The reportedly plane landed with its fuel tanks full because – having lost contact with air traffic controllers – it was too dangerous to dump its fuel tanks over Moscow.
"It attempted an emergency landing but did not succeed the first time, and on the second time the landing gear hit [the ground], then the nose did and it caught fire," a source at the airport said.
Circled twice
The Flightradar24 tracking service showed the aircraft circled twice over Moscow before making the emergency descent and landing after about 45 minutes.
"We had just taken off and the aircraft was hit by lightning… The landing was rough, I almost passed out from fear," the tabloid newspaper Komsomolskaya Pravda quoted one passenger, Petr Egorov, as saying.